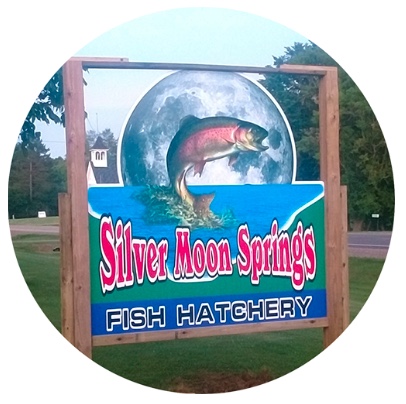 PRICES FOR LIVE FISH
2022 FALL PRICE SHEET FOR LIVE FISH
SILVER MOON SPRINGS LLC
W4852 Hwy 64
Elton, WI 54430
Rainbow Trout
| | | |
| --- | --- | --- |
| | up to 500 | 500 + |
| 6-8″ | $2.80 per fish | $2.60 per fish |
| 11-13″ * | $5.50 per pound | $5.25 per pound |
* 11-13″ are averaging 3/4 – one pound
Brook Trout
| | | |
| --- | --- | --- |
| | up to 500 | 500 + |
| 6-8″ | $3.00 per fish | $2.85 per fish |
| 10-13″ * | $5.75 per pound | $5.50 per pound |
* 10-13″ are averaging 3/4 pound
Brown Trout
| | | |
| --- | --- | --- |
| | up to 500 | 500+ |
| 6-8″ | Sold Out | Sold Out |
Limited Availability
Hybrid Bluegills
| | | |
| --- | --- | --- |
| | up to 500 | 500 + |
| 3-4″ | Sold out | Sold out |
| 5-7″ | Sold out | Sold Out |
Available Spring Only
Bluegills
| | | |
| --- | --- | --- |
| | up to 500 | 500+ |
| 4-6″ | $2.30 per fish | $2.10 per fish |
Call for Volume discount
Yellow Perch
| | | |
| --- | --- | --- |
| | up to 500 | 500+ |
| 6-8″ | $2.50 per fish | $2.25 per fish |
Call for Volume discount
Black Crappie
| | | |
| --- | --- | --- |
| | up to 500 | 500+ |
| 4-7″ | $2.30 per fish | $2.10 per fish |
Call for Volume discount
Largemouth Bass
| | | |
| --- | --- | --- |
| | up to 500 | 500 + |
| 4-6″ | Sold Out | Sold Out |
Available Spring Only
Walleye
| | | |
| --- | --- | --- |
| | up to 250 | 251-999 |
| 5-7″ | $3.00 per fish | $2.70 per fish |
Quantities of over 1000, please call for pricing
Fathead Minnows
| | | | |
| --- | --- | --- | --- |
| | 1 to 250 lbs. | 250-750 lbs. | 750 + lbs. |
| | $8.00 per lb. | $7.00 per lb. | Call for pricing |
250-300/lb.
---
Please note: Prices are subject to change without notice.
To place an order, please call us at (715) 882-8176 or (715) 216-1956 or (715) 219-3994 Please note: There will be an additional 3% fee for using a credit card.
Delivery Fee $3.00 per mile one way. Delivery may be discounted depending on the number of other orders on the same route. Minimum $400 order is required to be delivered.
There is no minimum order to pick up on the farm. Pickups are by appointment only. We have 50 gallon portable tanks for rent or purchase if you would like to haul your own fish. Ask us about them when you call!
The buyer is responsible for having any required permits. Information on required permits can be found through your state's website.
Lake Associations please call for bulk pricing.